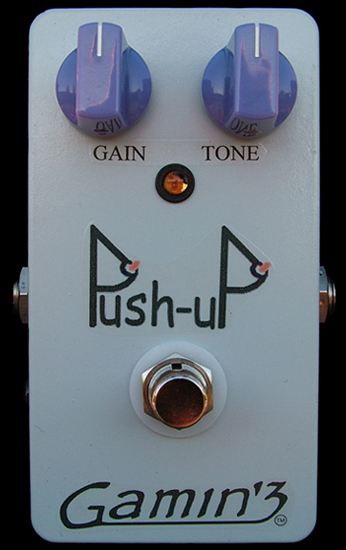 The PUSH-UP is nothing less than a guitarists dream come true!
The PUSH-UP is a low noise clean booster pedal which retains the inherent characteristics of your instrument (your sound) but adds punch, definition and harmonic richness. 
The PUSH-UP incorporates an Eq section which enables it to be used as a treble booster as well as giving you the possibility of adding bass frequencies, a feature lacking in many "TS" style pedal.  When used in its neutral position, this little gem reproduces the most subtle nuances of your playing.  Pushed a bit it produces a slight rectifier type compression while a bit further a pleasant harmonic distortion develops. 
While turning the gain control you may be aware of a very slight crackling sound, this is entirely normal.
PRICE: 135 euros

a BASS Version is also available